SINCE
1968
BUILDING
ON TRUST
OUR SERVICES
Our outstanding technical team enable us to specialize in civil works and to give an adequate treatment to building construction and a correct technical analysis at infrastructure works. To support our clients' needs, we also offer any necessary civil maintenance services.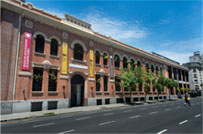 Since its inception, EMACO (Empresa Argentina de Construcciones) has worked on the construction of both public and private works. Being a member of the Argentine Construction Chamber and, with over 700,000 m2 built, EMACO has become a benchmark in the field of architecture and infrastructure works in Argentina.
We are an ever-growing company, which keeps adding new equipment and renewing the existing one, training our professionals, and offering a vast production capacity.